Interview with Annette & Boris about Aquatone & Smart Breathe™
HIDDEN Listen to the Q&A with SPEAKER from
DATE
Would you like your personal question about Aquatone or SmartBreathe­™ answered?
Check out our Facebook post, Annette is answering your questions, just post your comment below the post.
Aquatone & SmartBreathe™ can help you
About Boris Aranovich & Annette Graucob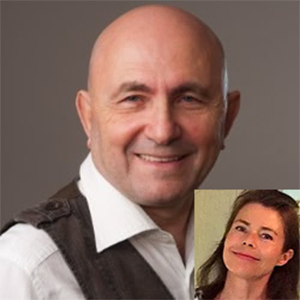 Boris Aranovich is a Russian- Swedish scientist, a radio show host, an internationally acclaimed speaker in the alternative health field, a well-known author of 14 books, including "Effective Breathing for Modern People", Doctor Mind" and "Be the Master of your Health". Boris has been professionally active for 40 years within the field of alternative medicine and has created a number of therapy- and wellness modalities used by thousands of people worldwide. Boris continues to develop new innovative health practices at his company Manniskans Resurser AB.
1987 -1991, Principal at the University of Alternative Medicine, St. Petersburg, Russia.
2003 – Founded the company Manniskans Resurser AB, where he is still MD.
2009 – Hosts a Swedish radio show called "Better and Better Every Day"
Boris Aranovich is also an active member of the organization International Association for Professional Medical Specialists, in the field of both alternative and traditional medicine.
Boris Aranovich has earned a Master's Degree from the International Academy of Ecology and Life Protection Sciences (IAELPS).
Research participation
1991 – Research at the Institute of Physical Education in St. Petersburg: "Effect of Mental Training on Sports Performance."
1997 -Research on the effects of ideo motor movements on brain rhythms, University of Washington, Seattle, USA
2010 -Research at Karolinska Institutet: "Effects of a low-intensity electromagnetic field on fibroblast migration and proliferation."
2011 – "Improvement of Human Health State after Short-Term Training of the SmartBreathe Method", Shenzhen, China
2013- Effects of Smart Breathe in Community Dwelling Elderly of New Delhi, India
Books and programs
Boris Aranovich is the author of 14 books and 3 interactive programmes about health.
Annette Graucob, Marketing Director at MR AB.She spent the first half of her professional career in the international media arena. But some 15 years ago, her focus and passion turned direction completely – empowering people to find their inner strength and joy became much more important. Annette is now able to do so as an intuitive artist and as a co-worker at the innovative alternative health company MR AB, which focuses on helping people to restore health and happiness.