Coronavirus - Energetic Health Support in Fearful Times
The physical, mental, and emotional impact of the Coronavirus has been heavy. It is causing fear, panic, and anxiety in our neighborhoods, countries, and the world.
It is with great humility and love that medical intuitive Virginia Rounds Griffiths and her "Heart Team" (see more about Virginia below) have created this free energetic support MP3 for the Happivize community.
This 16-minute music track is as Virginia describes "embedded with frequencies and vibrations to deactivate, neutralize, and scramble this virus. Also embedded are frequencies and vibrations to calm the fear that is rampant and palpable as well as the energy of ho'oponopono which is to 'make right'."
While there is cause for concern and action, calming fear will help us be more resilient, make better decisions, and keep our vibration higher.
A reminder that this is NOT a substitute for the recommended medical advice and preventative measures but is a complement to the other health support actions you are taking.
This mp3 can be played as often as you resonate with it, or it can be put on a loop. It may be played at a very low volume with equal effect.
It will support all in the home in which you are playing it, as long as it is to their benefit to receive it. They do not need to know or believe in energy healing to receive the benefit. If for some reason it is not for any one person's highest good, the energies will not be received by that person.
These gentle energies will not cause side effects, however we always encourage you to listen to your intuition as to if/how often you listen to it.
It is recommended to drink extra water to help flush out your system.
You can stream it from this page as often as you like, or if you would like to download the mp3 you can add it to cart for free and the download link will be provided after checkout.
Please feel free to share this page with your loved ones.
Send me the Download Link
The most sure way to get the link is to Add to Cart and checkout (free). Then you will get the access to it right away. But if you want to try us sending it to you via email you can by entering your name and email below. Just sometimes emails don't get delivered so if you don't see it, then do the Add to Cart.
About Virginia Rounds Griffiths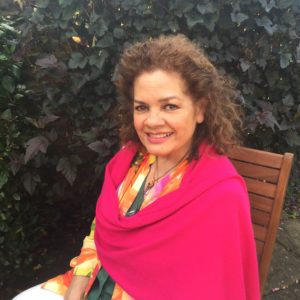 I have been blessed throughout my life starting with a Near Death Experience from the age of 7 years to my present timeline working with Happivize. I had a deep and desperate searching and longing within me for something that I could not put my finger on and that lasted through till my late 30's/40's which was when I embarked on my spiritual journey.
My work as a healer/coach is as necessary to me as breathing air. I feel so totally connected to Source energy and love what I do in conjunction with my Spiritual Heart TEAM of various Ascended Masters and Archangels and of course through God/Source and Mother Earth. A lot of my healing is intuitive and can come to me in the moment. It could take the form of visions/channelling/new procedures which I have never done before.
I call my version of healing Triple Heart Transformation. That umbrella encompasses the following and more.
As a Past, Present & Future Life Coach, working with me may help you find clarity and resolution in areas that maybe challenging you, including your career, finances, relationships, a new home or business, or decisions you need to make about your future
As a Medical Intuitive I scan your body and clear any negative imbalances that are detected to bring harmony, balance, and wellbeing back into your life
As an Energy Alchemist I clear and remove negative energies from your body. I also work to clear houses, land, and buildings of negative energy, geopathic and technopathic stress. Leaving your environment cleaner, happier and healthier.
I also love to travel and explore historical houses and castles and if 'permitted', I clear them so the energies are transformed and transmuted to Source for their ongoing soul journeys – it is such fun.